The weather has warmed a little with the arrival of Spring. Yesterday, the boys and I took advantage of a little warm weather and sunshine and went for a walk after their afternoon naps. Then I scraped the drive way while Adam watched in the shade and Ryan played with his sidewalk chalk. He kept asking "Color with me momma?".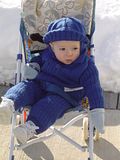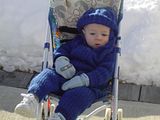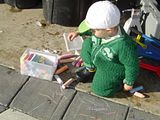 I don't know if it is another cold I seem to have or if it is the arrival of spring allergies with all the melting of the snow, but my head feels like it is going to explode today and my nose just won't stop leaking.
And I would be remiss if I didn't mention just how much this mommy loves having a grandma who knows and likes to knit for my boys. I remember my own granny knitted sweaters, hats and mittens for my cousins and I all the time. So I am glad my boys will have a similar experience. Knitting is definately one of those things I want to learn to do.