WOW! I never would have thought that October would be as busy as it was. It seems like just days ago it was the first of the month and we were enjoying summer like temps and gearing up for the baby sale. Now, October is over; the weather is wet and cold and the holiday season will soon be upon us. I have many things to blog about and just as many pictures to share.
First of all, Thanksgiving.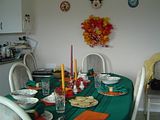 It's celebrated in October (the 2nd weekend) in Canada. That doesn't stop me from "celebrating" it in November as well. With as many friends and family as we have south of the border, I think it just makes good sense to observe both. But for Canadian Thanksgiving this year, I did three nights of cooking where we invited Brad's parents over. The first night was Saturday (the 11th) and it wasn't really Thanksgivingy, just a BBQ using up some of those steaks we were gifted with earlier this summer. Brad's dad came over but his mom didn't feel quite up to it. Sunday, I did our favorite crock pot ham and mashed potatoes. Again, Brad's dad came over but I can't remember if mom joined us, although I think she did. I made rhubarb crisp and apple crisp for dessert that night and unfortunately there was not enough left to save for dessert the next night. Monday night we dinned on two rotisserie chickens, potatoes, carrots, gravy, stove top and a nice light angel food cake with fluffy dream whip frosting and a cute little plastic turkey decoration.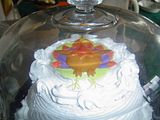 There were enough leftovers that I attempted for the first time to make Chicken Pot Pie. I even made my own crust. The crust will take some work but I think the pot pie was pretty pleasing. I'll definately make it again!
Earlier in the week, the weather had been a little blustery and the boys and I shared a day of stay in our jammies and we made cookies.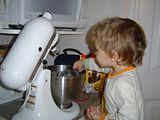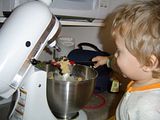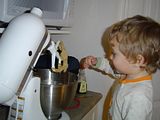 Ryan is a great helper!
We took a wirlwind trip to the city so Brad could attend an electronics fair. We took the HHR and not the van. It was loaded to the gills, but much of that was the bedding we needed to stay at the condo downtown and not a hotel. Next time, I have a solution for that...space bags! The boys travelled very well. And we were so excited when we arrived in Smokey Lake to find gas under $1.00. Brad loved his fair and while he was doing that, I took the boys on the bus downtown to Kingsway Garden Mall where we met up with friends from Babies First who were also in the city. We had a nice visit with Brad's grandma and then a lovely meal at Red Robin. BTW, they serve a "tartar" sauce with their fish and chips that Brad LOVES. It was much fun. I did take not only the camera but the video camera with me, but never took any pictures. Sorry!
On our trip to the city we invested in a 2G memory card for the camera we got at Christmas time last year. Up to now, we had just been working with the little memory it has on it's own harddrive and taking 10 pictures at a time. Now with the new card we can take lots of photos and even video. I experimented with picture settings one afternoon while Ryan was sleeping. Look who is more than mobile...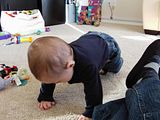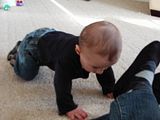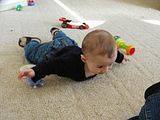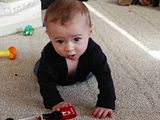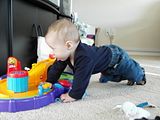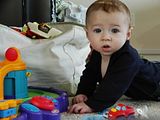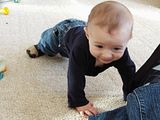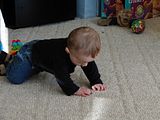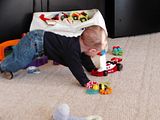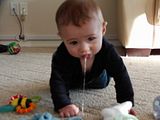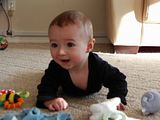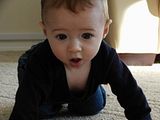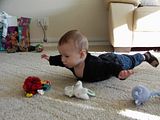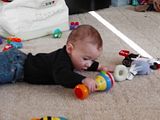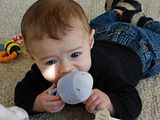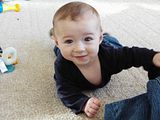 So glad we bought that fence to go around the Christmas tree last year (ang bought more at the baby sale this year). I have a feeling one little monkey will be pulling up on the gate around the tree.
Ryan has been enjoying going "shopping" with mommy. He especially likes to wear his monkey and help mommy push Adam in the stroller. He is also eager to help put items from our basket up on the counter to pay (unless it is something he REALLY wants). He wants to have his own "card" too. But what I think he likes the best is getting a cookie in the bakery and sometimes riding the vehicles in the mall. It is very rare that I will give him money to make them work but that doesn't stop him from climbing onto/into them and playing anyway.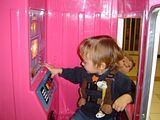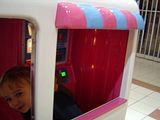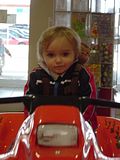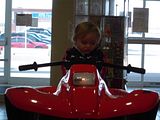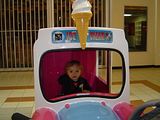 I'll blog more about the end of the month, my birthday and Hallowe'en, soon.