Here is our top 10 events of the year 2008! It was a memorable year.
*pictures that are centered are big, pictures that are on the left can be clicked anc made bigger
10. Brad's new video card. A Christmas gift to himself, he scored a "tested" version of it on ebay for what he calls a steal of a deal. (no picture available at posting time!)
9. The Dr. Jack Newman conference. For about 6 months, it was about all I could think about. It was great to be part of something so great in this area.
8. Christmas 08- some very nice gifts under the tree, some great company and food. More family and more time off for Brad would make it even more amazing.
7. The yard! Very exciting to have grass and places to play. The true test will be in the spring when the snow is gone and to see how it held up over it's first winter.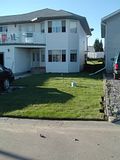 6. The instant tankless hot water system. One perk is the ability to have the dishwasher or washer running while 2 people shower and not run out of hot water or pressure but the true best part of this is the heat on the mainfloor and being able to use all parts of the house all year round.
5. The van- never thought I would like much less be able to drive a van. But with power seats it makes it possible. So glad we were able to find the van. It has made life a little easier. Now if we could just sell the bug...
4. A vist from Aunt Pat and Uncle Walt. A short but sweet visit while they were out west for a wedding.
3. The Melanchuk/Yaremko reunion of 08...Getting pictures of 4 generations of one family all together is just amazing if you ask me. We are so happy Darryl, Amanada and the girls came home for a quick visit and to celebrate Ryan's birthday again. We were very fortunate that Vance and Sara and the boys were able to drive over and visit us for the weekend as well.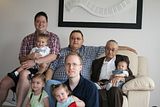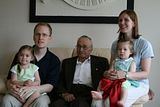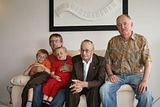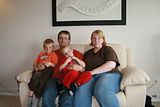 2. Mom and Jim's visit/ the engine rebuild and the rocking horse. It's always nice to have my parents visit. Brad learned some new car skills and Ryan was given a beautiful rocking horse that we will cherish for a long time.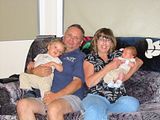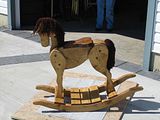 1. The birth of Adam...we went from a family of 3 to 4 and while a girl would have been nice too, I just love my littlest boy.